What creates the beauty of spring also causes misery to many people, in the form of seasonal allergies. Freshly trimmed grass, blooming flora, and weeds discharge pollen which leads to various types of seasonal allergies. You can find relief for your allergy symptoms by visiting any healthcare center including a Family Care, Walk-In medical clinic, or an Urgent Care Clinic for Allergies Treatment.
The American College of Allergy, Asthma & Immunology has reported that approximately 40 to 60 million people suffer annually from seasonal allergies in the U.S. and the numbers are rising every year.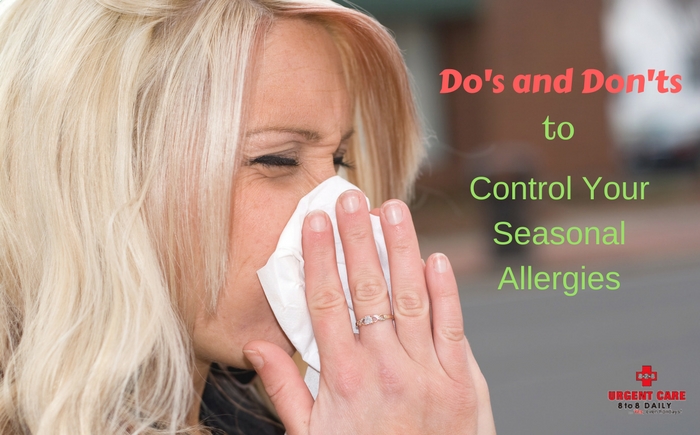 What to Do and Not to Do With Seasonal Allergies
Seasonal allergies, also known as hay fever and allergic rhinitis, have the potential to make you miserable. However, even people with critical allergies can at least reduce their symptoms by performing a few simple things.
Do's to Deal with Seasonal Allergies
While seasonal allergies may seem unmanageable, here are a few things you can do to control your allergies:
See a Doctor Many people who undergo seasonal allergies symptoms avoid doctor consultations and simply try to manage on their own. However, visiting any healthcare center to get properly diagnosed with allergies can offer major relief. Prescription allergy medication can easily alleviate the symptoms of people who suffer from serious allergies.

Take Medication at the Onset It's important to start your allergy medication as soon as you observe symptoms, regardless of whether you own a prescription or consume over the counter allergy (OTC) medicine. This will provide you the opportunity to allow the medicine to work ahead of your symptoms before they become unbearable.

Observe the Pollen Count Pollen is one of the leading causes of seasonal allergies. When the number of pollens is huge, those susceptible to allergies will endure serious symptoms, especially if they're outdoors. Thus, it's important to be aware of the pollen count if you're thinking of staying outdoors and be prepared for allergy symptoms in advance.
Don'ts to Deal with Seasonal Allergies
Just like other medical problems, certain things aggravate your allergies. Luckily, there are things you can avert doing to minimize your allergy symptoms:
Keep the Windows Open While you expect to get some fresh air into your home through open windows, allergens such as pollens also find easy access inside. You should try to maintain an allergen-free home during the allergy season to have a place safe enough to improve allergy symptoms.

Dry Washed Laundry Outside Hanging your washed laundry outdoors can also transport allergens into your home. Therefore, you should try to dry laundry inside, as frequently as possible. While this may seem exhausting, it will be worth it to keep the allergy-causing pollen at bay.

Neglect House Cleaning Spring cleaning is very important for your health. Some major tasks you should target before the arrival of the spring season include vacuuming, changing air filters, dusting, and cleaning windows. These chores will help reduce the count of allergens in your home.
The above-mentioned tips will help you withstand allergy season. If your allergies become worse, it's crucial to seek medical care from the nearest urgent care clinic. Visiting an Urgent Care Clinic for Allergies Treatment is a great option for non-lethal allergic reactions.