Your child's health is among the greatest priorities in your life and during their sickness, you want to provide them with a superior medical care, at the earliest. There are times when your child turns sick and the family pediatrician isn't available to attend. This is when you can count on a pediatric urgent care to address your child's medical needs in a comfortable and stress-free environment, through the best urgent care services.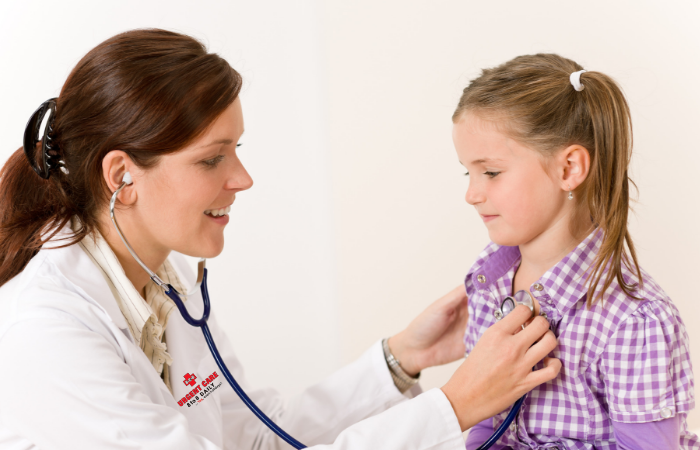 What Is a Pediatric Urgent Care for?
When you can't approach your routine pediatrician for whatever reason and your child needs after-hours medical care for sudden illnesses and injuries, a pediatric urgent care center is the most suitable choice. These urgent care and walk-in clinics offer services during extended hours at many convenient locations and are open even on weekends and holidays.
A pediatric urgent care provides prompt medical treatment to your child for health conditions that aren't fatal and don't necessitate emergency room care. The medical professionals in a pediatric urgent care are well equipped to ensure that your child receives the best possible treatment based on their unique needs, with complete care and compassion.
Where Can You Find Pediatric Urgent Care?
Not every urgent care center specializing in pediatrics. Due to this reason, it's better to locate one that deals with the treatment of young children. This way, you can get access to the doctor expert in treating your child's illness. When searching for urgent care pediatrics near you, ensure to assess their hours of operation. Almost all of them are open at extended hours as well as weekends and holidays.
Almost every urgent care center is efficient in providing prompt care to children, but those centered around pediatric care will perform much better at catering to the unique medical requirements of your child.
What Are the Benefits of Pediatric Urgent Care Centers?
Pediatric urgent cares are gaining popularity as the medical world strives to offer convenient healthcare solutions. Many urgent cares offer medical services to cater to a comprehensive range of pediatric conditions and injuries. You usually get a prompt and superior quality care when you omit the emergency room and proceed to a pediatric urgent care. A pediatric urgent care is beneficial in the following ways:
More inexpensive care in comparison to the emergency room
Pediatricians highly skilled in treating child health problems
An easy, playful surrounding and amiable staff
Accessible during extended night hours, weekends, and all holidays
A walk-in care service with no appointment required
Very brief waiting period
What Is an Urgent Care Situation?
Although the term urgent may appear to be somewhat disturbing, urgent care situations aren't as critical as emergency care issues. They do, though, necessitate a clinical visit earlier rather than later. To prevent unnecessary visits and costs, it's crucial to realize not all health problem or traumas involve a trip to the ER. In several instances, pediatric urgent care is conveniently performed at your local extended-hours urgent care clinic. This will ensure quicker and more effective care.
The five most common causes for a trip to a pediatric urgent care center include:
Upper Respiratory Infections Upper respiratory infections in the throat, nose or trachea can be a common cause for a pediatric urgent care visit. Serious respiratory problems may include breathing difficulties or discomfort linked to a bad common cold condition.

High Fever High fevers are among the most typical situations for pediatric urgent care and are always a cause for worry, as they can lead to seizures in young children. It's very crucial to get your child's fever controlled on priority through an urgent care aid in case oral medication is non-responsive.

Ear Pain In order to rule out the chances of a severe ear infection (otitis media), a visit to the doctor when your child experiences a severe ear pain might be a better option. Ear infections are very painful and are also usually symptomatically linked to high fever and more.

Superficial Injuries Superficial injuries can cause bruises, small incisions, and wounds. They are best to get reviewed by a doctor to rule out any lasting problems. Many of these injuries are an outcome of falling or crashing into objects.

Sprains and Strains Sprains and strains occur more commonly as children get older and become more active. Sprains are more severe than strains, and they signal a potential rip in a ligament. The injured area becomes swollen at times, and a bruise might be visible soon following the injury and may require immediate medical aid.
Also Read: Pediatric Urgent Care FAQs You Need to Know | Part-2